West's Vial2Bag DC Device Receives U.S. FDA 510(k) Clearance and CE Mark
Universal needle-free reconstitution and transfer system now available for use in hospitals
EXTON, Pa., Oct. 21, 2014 /PRNewswire/ -- West Pharmaceutical Services, Inc. (NYSE: WST), a global leader in innovative solutions for injectable drug administration, has received 510(k) clearance of the Vial2Bag® DC device from the United States Food and Drug Administration, and also the CE Mark for the European Union.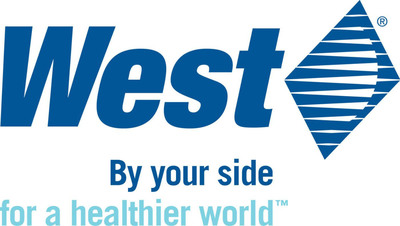 The Vial2Bag DC device is produced by West's subsidiary, Medimop Medical Projects Ltd., and is a universal admixture device designed to enable safe, convenient, needle-free reconstitution and transfer of drug products between a vial and a standard IV bag or bottle. The device connects to the IV bag set port using a standard IV spike and can be used with all standard manufacturers' bags. Following transfer of liquid from the bag, the reconstituted drug is then transferred from the vial back into the bag.
"Intravenous infusions are one of the most universally used methods of administration in healthcare settings. Our new Vial2Bag DC device simplifies the IV admixture process and eliminates the risk of needlestick injuries and minimizes potential drug exposure, making this procedure safer and more efficient for healthcare staff," said John Paproski, President, Pharmaceutical Delivery Systems, West Pharmaceutical Services. "This 510(k) clearance and CE Marking extends West's leading portfolio of needle-free reconstitution and transfer devices and will complement the currently marketed Vial2Bag and Vial Adapter devices."
The device is available for 13mm and 20mm diameter vials, fits all standard IV bags and is ideal for point-of-care reconstitution and admixture and can assist in compliance with the immediate use provision of USP < 797 >. Progressive Medical Inc. (PMI) will distribute the Vial2Bag DC device to hospitals in the United States.
"PMI is a leading distributor of specialty medical products that focuses on high-quality products that help improve patient safety and streamline hospital procedures. They have been successful with the Vial2Bag device over the past three years, which makes the company an excellent choice to distribute the innovative Vial2Bag DC device," said Mr. Paproski.
Mark Martin, President and CEO of Progressive Medical Inc., said, "At PMI, our mission is to identify innovative new products that can improve the quality of patient healthcare, so we are very excited about the launch of Vial2Bag DC, because of its potential to improve patient outcomes, and at the same time, streamline and lessen costs in the healthcare system."
Click here for more information on the Vial2Bag DC device.
About West
West is by the side of its healthcare partners from concept to the patient, designing and manufacturing packaging, diagnostic and delivery systems that promote the efficiency, reliability and safety of their products. Every day, West is leading the way with cutting-edge technologies and quality systems, a thorough understanding of global regulatory compliance, and an unmatched and growing knowledge base of pharmaceutical product testing, development and packaging. Based in Exton, Pa., West supports customers from sales, manufacturing, and research and development locations in North and South America, Europe, Asia and Australia. West's 2013 sales reflect the daily use of approximately 100 million of its components and devices around the world.
West and the diamond logo and By your side for a healthier world™ are registered trademarks or trademarks of West Pharmaceutical Services, Inc., in the United States and other jurisdictions.
Vial2Bag® is a registered trademark of Medimop Medical Projects Ltd., a subsidiary of West Pharmaceutical Services, Inc.
Media Contact, North America
Emily Denney
Global Communications, West Pharmaceutical Services
Emily.Denney@westpharma.com
Media Contact, Europe
Martin Gleissner
MSLGROUP
+46 70 848 90 85
westpharma@mslgroup.com
Logo - http://photos.prnewswire.com/prnh/20131029/NE05658LOGO
To view the original version on PR Newswire, visit:http://www.prnewswire.com/news-releases/wests-vial2bag-dc-device-receives-us-fda-510k-clearance-and-ce-mark-620852374.html
SOURCE West Pharmaceutical Services, Inc.