West Launches High-Quality Flip-Off® PlusRU Seals
Sterile, ready-to-use drug vial seals help pharmaceutical and biopharmaceutical manufacturers meet regulatory challenges and ensure drug safety
EXTON, Pa., Feb. 11, 2015 /PRNewswire/ -- West Pharmaceutical Services, Inc. (NYSE: WST), a global leader in innovative solutions for injectable drug administration, today announced the availability of a new sterile drug vial seal, the Flip-Off® PlusRU seal. Part of West's Flip-Off® seal product family, these new ready-to-use seals help pharmaceutical and biopharmaceutical manufacturers protect the safety and integrity of their drug products while meeting regulatory requirements for increased drug cleanliness and safety.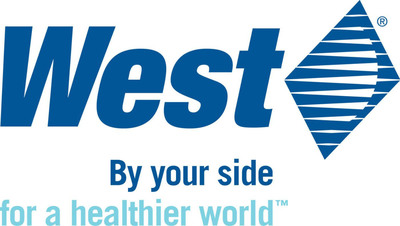 Seals play an essential role in keeping injectable drugs safe. They ensure that drug products in vials are sterile and free of contaminants and particulates that could present risks to patients. For more than 90 years, West has been a leader in this field, producing high-quality drug containment and delivery components and systems that help pharmaceutical and biopharmaceutical companies provide medicines to patients more efficiently, reliably and safely. West's newest innovation, the Flip-Off® PlusRU seal, continues this legacy by providing drug manufacturers around the world with sterile, high-quality seals that consistently achieve reproducible and safe container integrity for drug products while ensuring low levels of bioburden and particulates, which may help make drugs safer for patients.
"In recent years, changing regulatory guidelines have increased the demand for reliable seal solutions in the pharmaceutical industry," said Dr. Mike Schafers, Vice President, Global Marketing, Pharmaceutical Packaging Systems, West. "Using high-quality sterile packaging components minimizes the risk of external contamination, line stoppages and equipment down-time. With Flip-Off® PlusRU seals we can help our customers to increase their operational efficiency significantly while meeting the highest market and regulatory challenges for increased drug integrity and safety."
Flip-Off® PlusRU seals are manufactured using the TrueEdge® manufacturing production process, providing precise, consistent and reproducible seals with a smooth, even bottom edge which addresses requirements for high-speed filling and reliable capping success. The seals are assembled in a CNC (Controlled, not Classified) environment. They are sterile and support clean crimping under Grade A air supply in order to exclude bioburden. A certified bioburden prior to sterilization allows cGMP compliant sterilization validation, thus enabling clean crimping processes in accordance with the latest quality trends and regulations.
West's Flip-Off® PlusRU seals will be launched at Pharmapack Europe, February 11-12 in Paris, France in West booth #538.
About West
West Pharmaceutical Services is a leading manufacturer of packaging components and delivery systems for injectable drugs and healthcare products. Working by the side of its customers from concept to patient, West creates products that promote the efficiency, reliability and safety of the world's pharmaceutical drug supply.  West is headquartered in Exton, Pennsylvania, and supports its customers from locations in North and South America, Europe, Asia and Australia. West's 2013 sales of $1.4 billion reflect the daily use of approximately 110 million of its components and devices, which are designed to improve the delivery of healthcare to patients around the world.
Flip-Off® and TrueEdge® are registered trademarks or trademarks of West Pharmaceutical Services, Inc., in the United States and other jurisdictions.
Media Contact, North America
Emily Denney
Global Communications, West Pharmaceutical Services
Emily.Denney@westpharma.com
Media Contact, Europe
Martin Gleissner
MSLGROUP
+46 70 848 90 85
westpharma@mslgroup.com
Logo - http://photos.prnewswire.com/prnh/20131029/NE05658LOGO
To view the original version on PR Newswire, visit:http://www.prnewswire.com/news-releases/west-launches-high-quality-flip-off-plusru-seals-300034026.html
SOURCE West Pharmaceutical Services, Inc.